Discover more from Constant Commoner
Essays from the cultural hinterlands. I'm in the boonies but I have Internet and a working BS meter. I write about my life, my loves, my losses, but when the country is on the skids I'll be trying to get it back on track.
We arrived on Maui on December 7, 1966. It didn't get past us that this was FDR's 'date that will live in infamy', but we got off the plane to sunshine and warmth and the smell of frangipani1 and fried fish2 and we fell in love.
The long corridors at the Maui airport at the time were open to the breezes and the fronds of palm trees reached inside and begged to be touched. The University of Michigan families already there greeted us with a half-dozen leis each and our two older kids (ages 9 and 11 then) remember that they could hardly see above theirs. The women were dressed in traditional muumuus and their tans told us there would be no such thing as winter on this island. (At sea-level, that is. The mountain was something else again. Read on.)
We'd left Detroit in an ice storm two days before, Ed's brother racing over slick streets to get us to the airport, where we barely made our plane after running through the concourse full sprint, me carrying six-month-old Julie and Ed and the kids dragging carry-ons—the things we would need for our stopover in Los Angeles. (Where we'd promised the kids a day at Disneyland, only to find it was closed on Monday, the only full day we would be there. Shades of WallyWorld!)
U of M's Institute of Science and Technology was leasing one of the observatories on Mt. Haleakala for a long-term project involving weather watching and satellite surveillance, and most of the group, including Ed, worked five days a week at the summit.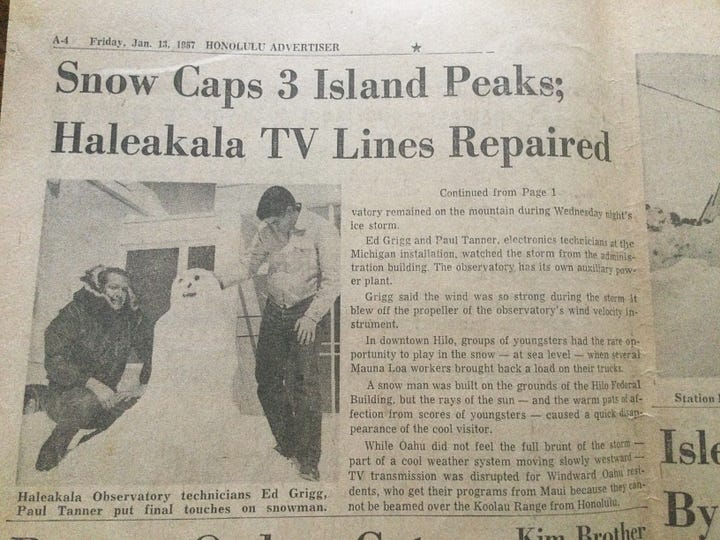 They hired a dozen or more locals, many of whom had never been on Haleakala before. We all became one amazing family. We brought our families to the beaches and had communal barbeques. We had parties at our homes and became a part of the local cultures, whenever they chose to include us—which became increasingly often. Japanese, Chinese, Portuguese, Filipino, Hawaiian—we laughed and learned and cried with them. We developed life-long friendships and some of us are still around, remembering. Especially today.
We were there for a year and a half, returning to Michigan in July, 1968. Ed and I went back to Maui in 1997, almost 30 years later, and spent two months there, visiting old friends and loving every minute of it—again.
Our two older kids (yes, I still call them 'kids'), along with their cousins who were also there (Ed's brother came to work on Haleakala the following year), went back for a 50th Anniversary trip in 2018. It had changed considerably, of course, but Maui No Ka Oi.
Maui is the best. Always in our hearts.
And now the news of the devastating fires. Lahaina, the beautiful, historic harbor town, seems to have been hit the hardest. The huge banyan tree, the centerpiece of the town and the gathering place for everyone who goes there, has been burned but I heard just today that it may still survive. It's been there for 150 years. I have no doubt it'll be there for another 150 years. Some solace, that.
The Pioneer Inn, built in 1907, and the building most visible in the waterfront shots, has been burned to the ground. Most of Front Street, facing the harbor, and the narrow streets behind, are nothing but ashes and cinders now.
But worse than any of that, as of this writing 36 people have died in the fires. It's too crushing to even comprehend, and even after all these years I feel the loss as if Maui is still a part of my life. There's a hold there that will never go away.
That's the story of our lives, isn't it? We live, we love, we remember. I knew when I left Maui in 1997 I would probably never see it again. I was okay with that as long as I knew it would always be there.
And now, as with so many people and places in my life, much of it is gone, taking a part of me with it. And it hurts.
---
Constant Commoner is here because you're here. To receive new posts and support my work, I hope you'll become a subscriber—either free or paid. Thank you.
2
The Maui Airport restaurant's Mahi Mahi was famously exquisite and reasonably priced. Our gang met there often for dinner.